From November 25th we will be available in the offer of watercolors Ms. Alina Skiby in the form of hand-gilded graphics in different sizes.

ALINA SKIBA
A FEW WORDS ABOUT HERSELF AND HER CREATIVITY
I've been Synesthetic ever since.
I have always perceived and felt the reality surrounding me.
Numbers and letters always have their fixed colors, shapes, flavors and sounds.
This is my specific alphabet.
In their sentences were sets of flowing information, as well as beautiful images.
Synesthesia is the genius of mind - the brain that perceives the world with many senses at once, operates a kind of logic.
My synesthetic alphabet is the same, from the earliest years, which came out independently of me.
As a small child I thought that everyone saw and felt like me.
Over time, I realized that this is not the typical sight and feeling.
It took me more than 20 years to improve my extraordinary skills to create my own system and gain knowledge about what Synesthesia is, and how different it is from the commonplace.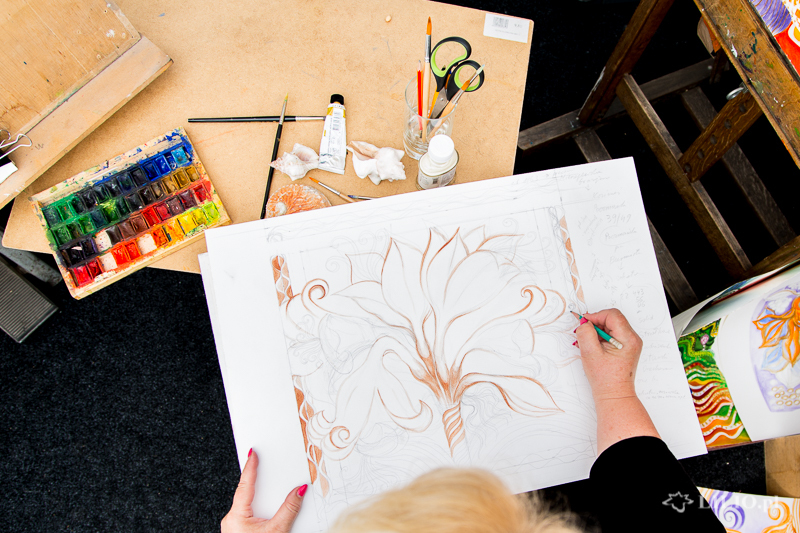 I graduated from Film School in Lodz and Academy of Fine Arts in Cracow where I lived.
I painted monochrome images, oils, brown, and dark indigo.
I did not want to paint in such conservative colors, and the bright colors, so called from the tube, scared me.
So I stopped painting for many years.
I took a movie.
The adrenaline of adrenaline and the ability to create moving images have satisfied me for many years.
I have made several successful films, copyrighted, symbolic, in a variety of techniques, from acting to animation.
However, this passion for filmmaking, being the director and the scenery designer was also exhausted.
She started bored me.
I experienced feelings of emptiness, despite many talents and creative achievements.
I missed painting, being alone with my imagination and my feelings.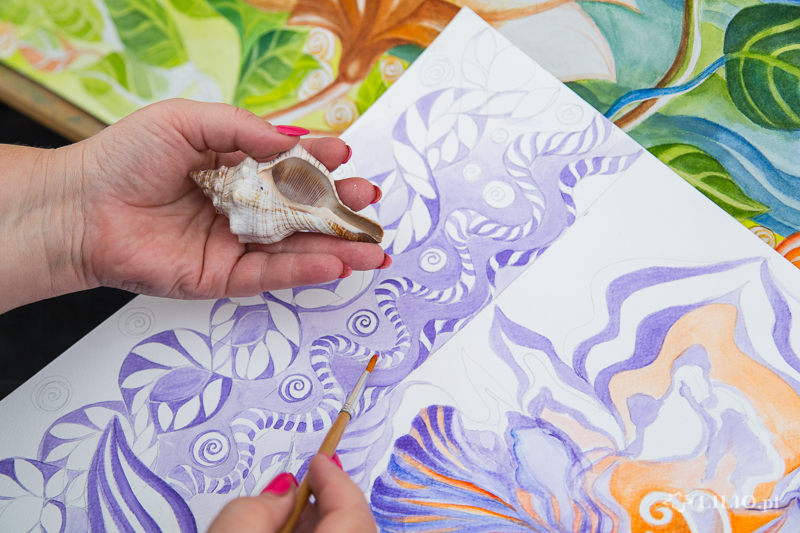 It was only after the birth of my son and daughter that I dared to paint as I always did.
I stopped being afraid of what I felt.
In this way, the first two great paintings, "Invitation to Life" and "You Can Fly", were created.
I started to paint large format watercolors, changing the usual technique of transparent watercolor, on strong in colors, dense and very spatial.
In this way she made light watercolor paintings for strong, oil-like - watercolor paintings in my own style and technique.
The technique is constantly improving, it is extremely labor intensive and requires repeated application of watercolors on paper.
This touch of perfect paper always makes me happy.
This is a remnant of my education in graphics.
First I sketch on paper with a pencil.
Then, as I develop a precise drawing with one line, I apply masking adhesives.
They cover those pieces of paper that are supposed to remain white.
White paint I do not use.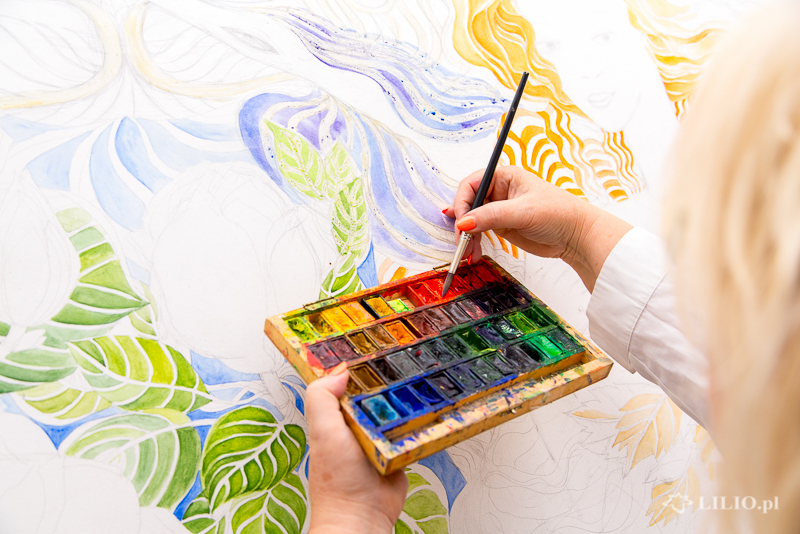 I paint slowly and methodically, even though the subject of my paintings is always Emotions and Feelings.
This is a very difficult, because it limits my emotions, slowly filling the picture with colors.
In watercolor you can not go back, nothing can be improved or redone, which is possible in other painting techniques.
The painting time of the image is several weeks, sometimes months, depending on the image format.
I do not paint small pictures, the smallest is 100 cm x70 cm.
This gives me the ability to precision the individual elements.
I am changing and improving a technique that, despite the hundreds of watercolors, is still changing, as customer demands and synesthesies change.
My dream is to paint a panoramic image, about 3 meters, of the Paradise Garden, full of flying birds and fish, underwater lands, huge flowers, endless compositions, as if it were a fragment of a larger realm ... vibrant with gold golden sashes of infinity,
goldfish ... like a flowing river of colors and shapes.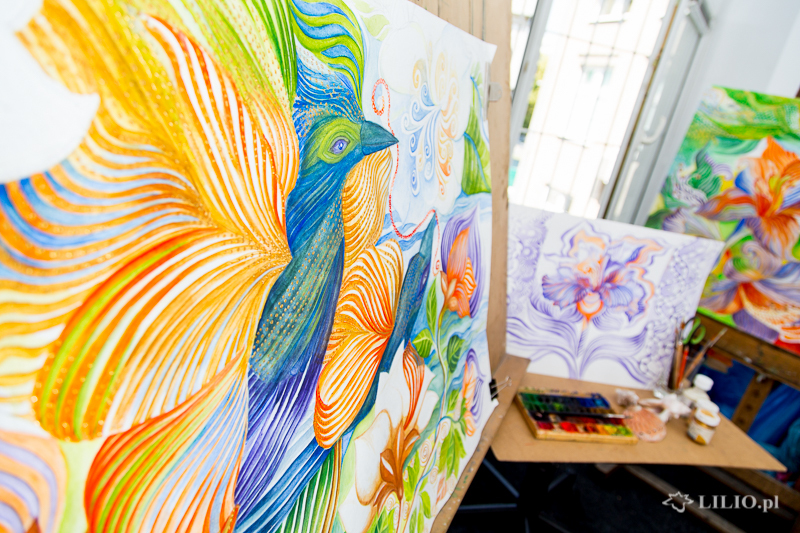 I painted and painted with intentions, they fulfill a very important function.
The above mentioned my first two paintings, although painted on the order, painted mostly for myself.
Symbolic big irises gave me a sense of my own femininity and female biology.
They were the essence of life.
While the great bird and the flying fish were aiming to realize that it was possible to overcome their weaknesses, one could achieve high flying in all without restriction.
I started painting only on orders.
The person I painted for myself became and continues to be my hero, and my intention is to symbolize the subject in the image.
What is most important in my client's needs.
So both Happiness, Beauty (developing sensitivity to the world and what is closest), Love (love dance and his need), etc.
I painted according to this principle dozens of images that are found in different places in the world.
To distribute my symbolic painting more, I launched the first series of graphics.
The first one is available in the Lilio shop.
The entire collection is 35 graphics, gilded in various formats.
There are also large-format gold plated graphics, also for purchase in the shop, for individual orders.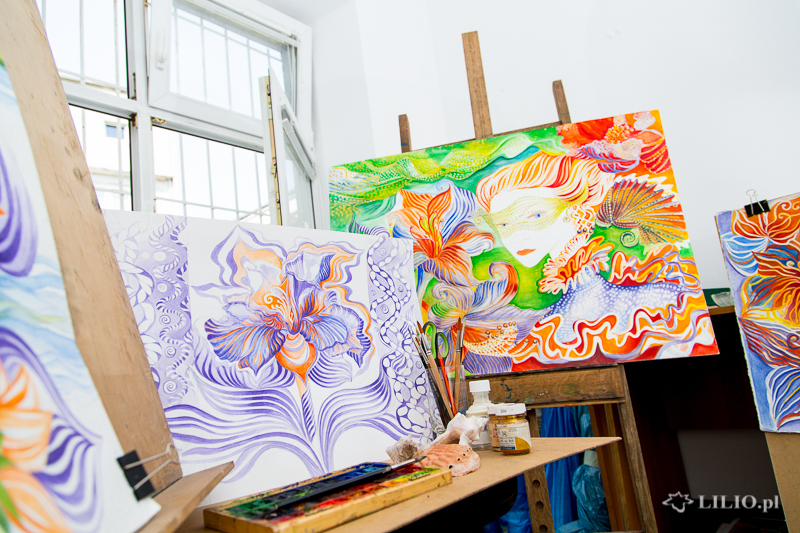 I am currently working on a series of Angels, according to old works.
It's a long process of sketching first, then images.
Painting in my unique technique is time consuming and extremely precise.
Angels will be painted according to my Synesthetic Reception, in accordance with my Colors Letter and Cyf.
Gabriel, Michael and Rafael were the first to rise.
I am looking for an ancient knowledge that is helpful in creating images.
My goal was to work for others by painting images on orders and developing synesthetic feelings with my clients.
I am constantly working on my ability to perceive other people's feelings, process them in the form of images, and thus meet my needs.
Contacting the customer is like the mystery of the soul, a very important process to meet the expectations that the symbolism in the image fulfills its purpose.
The painting itself is like virtual psychotherapy, it takes time as a prayer with intent.
I constantly develop my Synesthesia sensibilities, both in my own paintings and in filmmaking as well as during my classes with students.
I run workshops on developing creativity for people who are sensitive and willing to develop their skills.
It's also my passion and purpose.
For example:
Letter M = Blue
Letter R = Pink color
Letter SZCZ = Color Gold - Silver
Letter H = Bright Olive Color
THE WORDS IN SYNESTION
Love = Blue River, with gold and silver particles hovering over it.
The taste of peach, the smell of spring water and spruce forest.
Letter M = Blue, flowing
 
Joy of life - Dancing pink and raspberry red flames full of light, the taste of wild strawberries and raspberries, the sound of the sea.
Letter R = Red / Raspberry / Pink
 
Happiness - gold - silver rain falling from the sky and becoming a fountain.
Letter of Silver and Gold, penetrating.
The sound of beads rolling on the floor, fireworks ... etc.
 
Harmonia - green, slightly olive meadows, small infinite hills to the horizon, above them blue and white clouds, warm light breeze, sunny morning, meadows dotted with small filet bells (flowers), and the sounds of bells - instruments, the taste of mature apricots.
Color H - light green, olive
 
Performance - Color S - light yellow, warm sand under the feet, yellow soft, velvety.
The vastness of golden sand, with the sun on the horizon.
Taste of ripe Mango.
GALLERY